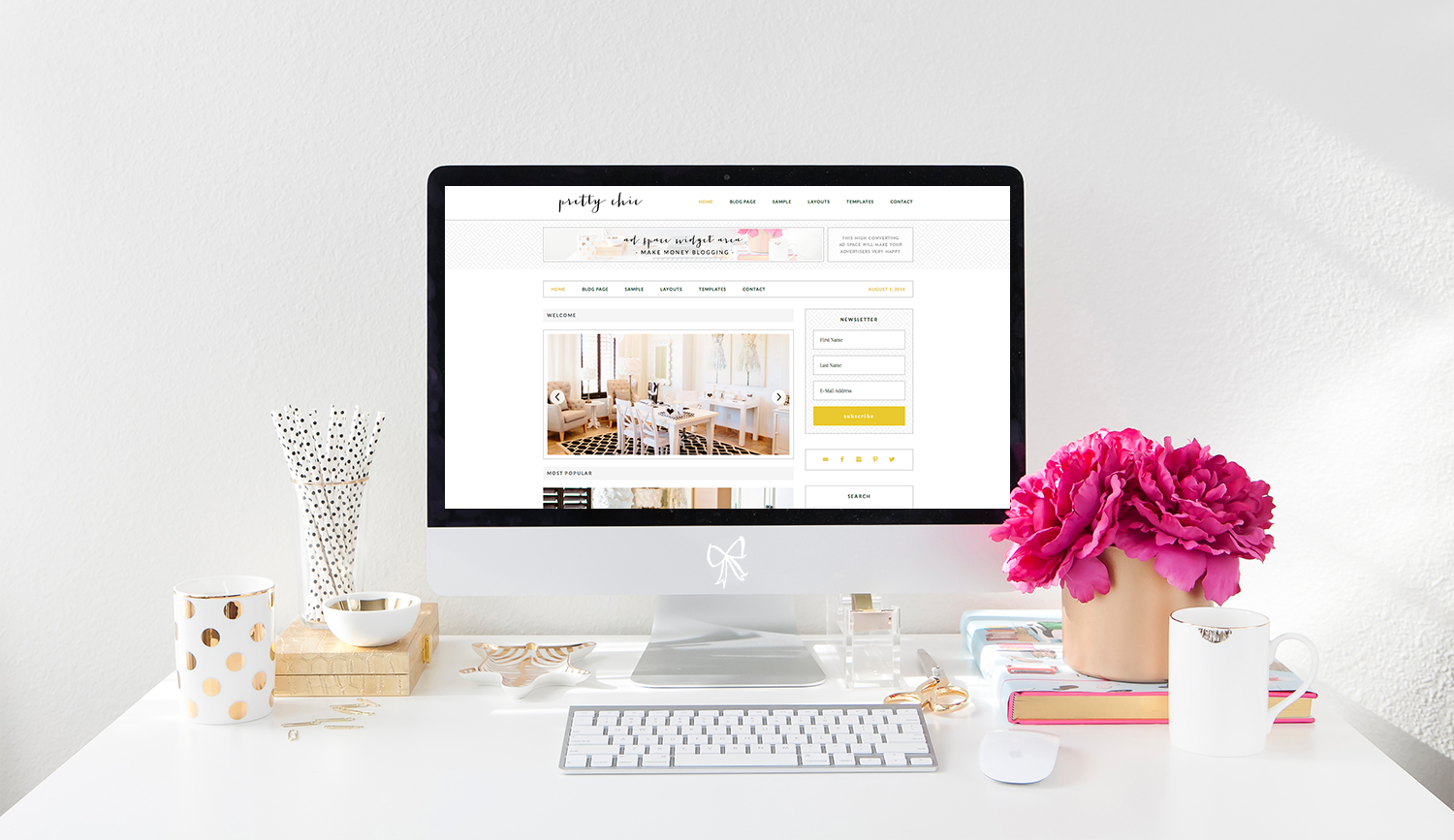 This theme is stylish, functional, sleek and modern. Pretty Chic has an unlimited amount of options. You can place widgets on every single page if you like. You can use one navigation bar, or 3. You can have your latest blog posts display normally on your home page, you can use the custom home page, or you can have just a slider above your latest posts. It's all up to you, and super simple to adjust. Perhaps the most important aspect in the function department is the full width ad widget, giving your site more appeal to various ad agencies. Here is a detailed list of theme features:
(All images on demo site courtesy of the fabulous TomKat Studio)
Ad Space on Every Single Page – Highest Converting Placement
Want to place ads on your blog while maintaining a sophisticated look? Done & done. Not interested in ads? These widget areas only exist if you want them to. You could use this area for your newsletter subscription widget as well as announcements, or whatever you like.
Featured Widget Area at the bottom of each page
Simply drag and drop the blog posts, or pages, of your choice into this widget area to feature your favorites on every page.
eCommerce Ready!
Feel like adding a shop to your site? This theme is ready to go. All you have to do is install a plugin to add shop capabilities to this theme. Don't want a shop? Just skip that step in the setup tutorials and you'll be golden.
Sticky Header & Navigation
Your readers will remember what site they're on, and easily navigate your site, helping you retain visitors for longer periods of time.
Add Your Own Logo!
This is our first theme to include a retina ready, and responsive, header uploader. Adding your logo is now as easy as a couple of clicks. Yay!
Retina Ready
Your theme will appear just as lovely on retina ready devices, as it does on a regular display. Retina ready means no fuzziness, ever.
In Post Navigation
Another neat little feature to retain traffic for longer periods of time. (Hello google analytics!) It's as easy as clicking "next post" or "previous post" after each article.
After Post Widget Area
Build your email subscriptions with this perfectly placed widget area, or add a little note to your readers, whatever you choose.
Create this type of headline anywhere
I've styled the h6 header to appear just like above, enabling you to create organized blog posts with sections, or just to emphasize a point.
Keeps your posts organized by year, then month, then day. This page takes a boring archive page and puts a modern, styled twist on it. Your archives are fresh and organized with a clean look and feel.
Pretty Chic is exactly what you need
Take your business of blogging to the next level. Did you know that WordPress Themes can be used as a website without a blog if you like? They can, and it's super simple to just leave the blog off of your site if you wish to showcase content only. WordPress is simple to learn. You can do your own site updates, create your own content, publish your own pages and put your money towards other aspects of your business. The options are unlimited. Have a question? Email [email protected] and we will make sure this theme is right for you.
– xoxo –
your friend in the web design business